Rebuilding a Resilient New Jersey Shore Conference Recap
December 13th, 2012 by Christine Barcia Moore
(The conference agenda, speaker bios, and presentations, and Storified summaries of each of the sessions are now available.  An archived recording of the event is also available via Monmouth University.)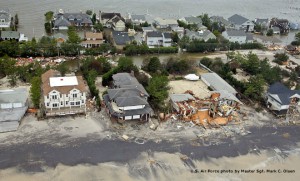 Hundreds gathered on Friday, Dec. 7, 2012, at Monmouth University's Wilson Hall to attend the "Rebuilding a Resilient New Jersey Shore" conference.  Sponsored by New Jersey Future along with the university's Kislak Real Estate Institute and its Urban Coast Institute, the conference brought together a diverse group encompassing local, state and federal interests, including university professors, planners, engineers, attorneys, Federal Emergency Management Agency (FEMA) employees, architects and many others concerned with the future of the New Jersey coastline. 
Peter S. Reinhart Esq., director of the Kislak Institute and chairman of New Jersey Future's Board of Trustees, opened the conference with a call to rebuild in a way that "takes into account doing things better and smarter" in order to minimize future damage.  That set the tone for the discussion that ensued: A change in approach to coastal development is necessary and desirable given what the region experienced in Superstorm Sandy.
Jeanne Herb, research program administrator at the Edward J. Bloustein School of Planning and Public Policy at Rutgers University, moderated the first session, "The New Normal."  After mentioning the formation of The New Jersey Climate Adaptation Alliance, which seeks through policy solutions, business partnerships and community outreach to identify ways to adapt to changes in climate, Herb introduced Anthony Broccoli, professor of atmospheric science and director of the climate and environmental change initiative at the School of Environmental Sciences at Rutgers University.  Broccoli focused on the science of the storm, pointing out the recent rise in sea level that has caused the baseline for coastal flooding to increase, a trend that has enormous implications for future land use development policy.  "While the meteorology of Sandy is once in a lifetime, the impacts will not be," Broccoli warned.  (Broccoli presentation.)
The next speaker, Megan Linkin, vice president of global partnerships at Swiss Reinsurance America Holding Corporation in Armonk, N.Y., discussed the viability of parametric rather than traditional insurance models.  Parametric insurance policies, typically purchased by public entities, are based solely on the occurrence of an event within specified "parameters," and are designed to give municipalities a quick infusion of cash after a disaster.  (Linkin presentation.)
For the second session, "Lessons From Katrina," Rob Freudenberg, New Jersey director of the New York-based Regional Plan Association, introduced Ed Blakely, former executive director of the Office of Recovery and Development Administration in New Orleans.  Blakely emphasized the need to look forward, and to recognize and adapt to the new circumstances and new roles that a natural disaster creates.  "Start with the future, not with the past," he advised the audience.  He offered several guiding principles toward post-disaster renewal:  partnership among all government agencies; speaking with one voice; regional opportunities; the right mixture of state and federal funding; building local capacity; and building better, not just repairing.  On that final point, he urged conference participants to resist the temptation to repair just buildings with funds received, but instead to rebuild entire communities.  (Blakely presentation.)
The third session, "Federal Agency Roles:  Responses, Mitigation and Community Resilience," was moderated by Tony MacDonald, director of the Urban Coast Institute at Monmouth University.  In his remarks MacDonald reiterated the need for resilience and a coordinated response, in addition to stressing the importance of considering the community in reacting to this natural disaster.  He then introduced Lopa Kolluri, deputy chief of staff for operations and strategy at the U.S. Department of Housing and Urban Development (HUD) in Washington, D.C.  Kolluri stressed that recovery and rebuilding are a "national priority, not just a state and local issue."  The key priority for HUD, she explained, is to find housing for the displaced, and she mentioned HUD's utilization of flexibility and waivers in programs in order to expedite meeting the needs of the displaced.  She also stressed HUD's new role in coordinating the federal response to Sandy. 
Next to the podium was Charles B. Chestnutt, coastal engineer for the Institute for Water Resources, U.S. Army Corp of Engineers in Alexandria, Va., who discussed the importance of managing the coast as a system, not just as individual projects.  He highlighted high dunes and wide beaches as effective approaches.  (Chestnutt presentation.)  The final panelist, Tim Crowley,  the director of the Mitigation Division in Region II of FEMA in New York, stressed three things: advisory-based flood elevations (ABFEs); community resilience; and community-based informed decision-making.  On the last point, he discussed the use of a Coastal Outreach Advisory Team (COAT) to work with individual communities.  "What resonates in one town may not resonate in another town," he explained. He continued with a discussion about the importance of a mitigation plan that serves as the foundation for reducing further risk and preventing further damage.  (Crowley presentation.)
Peter Kasabach, executive director of New Jersey Future, moderated the final panel session, "Opportunities for State and Regional Action to Enhance Resilience" and emphasized the importance of the state taking a leadership role in rebuilding smarter  The first speaker, former Commissioner of the New Jersey Department of Environmental Protection Mark Mauriello, explained that the construction standards that currently exist do not protect citizens because they do not account for changes in risk.  Mauriello discussed dune-building as an obvious way to mitigate increased risk because "we know how to do it."  To those who are hesitant about losing ocean views, he quoted, "If you can see the ocean, the ocean can see you, too." (Mauriello presentation.)  The next speaker, Brian O'Looney AIA LEED-AP, a partner at Torti Gallas and Partners of Silver Spring, Md., discussed building design as a way to preserve community identity while improving resilience.  He offered specific ways to tackle problems that Superstorm Sandy exposed, including a "smart vent" that helps equalize water pressure on a structure's foundation, a hipped roof that provides better wind resistance, and "tuck-under" parking that can take advantage of mandatory minimum ground-floor elevations and enable increased density in areas where rebuilding is encouraged.  (O'Looney presentation.)
To close the conference, Patrick Murray, director of the Polling Institute at Monmouth University, asked participants to fill out a survey relating to the use of tax dollars for rebuilding and addressing various problems, including power outages, wetlands destruction and rail damage, caused by the storm.  The survey responses from the conference will be compared to public responses to the same questions in a statewide survey conducted by the institute and released Dec. 7. (Public poll results.)
The over-arching theme throughout the conference was the need to rebuild smarter through the coordinated efforts at all levels of government.  Superstorm Sandy has presented New Jersey with the opportunity to change how it uses vulnerable land.  With the scientific community stressing that sea levels are rising and more intense storms are on the horizon, the imperative to do so seems clear.
---

Christine Barcia Moore is a freelance journalist.
---
---