Public-Interest Organizations Urge Commitment of Disaster Competition Award Funds to Regional Planning
March 24th, 2016 by Elaine Clisham
Letter, signed by 12 organizations, emphasizes urgent need for
leadership and regional focus in resiliency planning.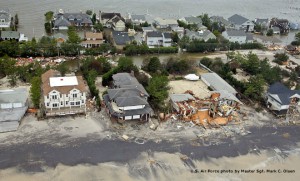 New Jersey Future, along with a coalition of public interest organizations, today sent a letter to Gov. Christie urging him to take full advantage of the $15 million dollars awarded to the state for regional resiliency planning from the National Disaster Resilience Competition.
"The money the state has received affords New Jersey a singular opportunity to assist coastal areas in evaluating the implications of rising sea levels and increased flooding and strategically addressing these issues with the future in mind," states the letter in part. "This funding can help to expand significantly the detailed vulnerability analysis work NJDEP's Office of Coastal and Land Use Planning is already performing locally, by scaling this effort up to the regional level. A regional approach is critical because flood inundation and storm damage are not constrained by municipal boundaries. Elected officials from communities along New Jersey's coast are awakening to these threats and are urgently seeking direction."
The letter urged the governor to accept the funds, articulate a strong commitment to using them to develop strong regional plans, and direct the NJDEP to initiate a robust and transparent process in all affected communities.
The funds are a partial award from New Jersey's application to the U.S. Department of Housing and Urban Development's National Disaster Resilience Competition. The state did not receive all of the funding that it had requested, but did receive these funds for regional resiliency planning.
Signatories to the letter in addition to New Jersey Future are:
American Littoral Society
Tim Dillingham, Executive Director
Clean Ocean Action
Cindy Zipf, Executive Director
Environment New Jersey
Doug O'Malley, Director
Housing and Community Development Network of New Jersey
Staci Berger, Executive Director
New Jersey Association for Floodplain Management
John Miller, Chairman, Legislative Committee
New Jersey Chapter, American Planning Association
Charles Latini, President
New Jersey Chapter,The Nature Conservancy
Tom Wells, Director of Government Relations
NY/NJ Baykeeper
Debbie Mans, Baykeeper and Executive Director
Pinelands Preservation Alliance
Carleton Montgomery, Executive Director
PlanSmart NJ
Ann Brady, Executive Director
Regional Plan Association
Rob Freudenberg, Director, Energy and Environment
The full letter may be found here.
---