Rebuilding for Resilience
The devastation caused by Hurricane Sandy forced an important conversation among stakeholders involved in every aspect of development in diverse areas in New Jersey, about how to focus our shared efforts on rebuilding in a more resilient, sustainable way, so that we can support the full range of lifestyles, livelihoods and recreation opportunities that have made New Jersey unique.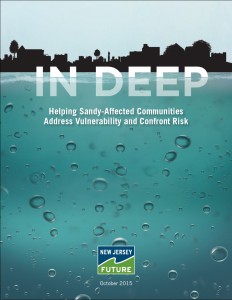 For three years, New Jersey Future was involved in a pilot project, inspired by recommendations in FEMA's National Disaster Recovery Framework, that has placed local recovery planning managers (LRPMs) in six Sandy-affected communities, to assist them with long-term resiliency planning. Three years after the storm, we released a report assessing the program's successes and challenges, including lessons learned and recommendations for future implementation of the program.
Download In Deep: Helping Sandy-Affected Communities Address Vulnerability and Confront Risk.
The question of where and how to rebuild various areas of New Jersey after Hurricane Sandy has been a complex and nuanced one, involving urban density, property values, lifestyles, employment opportunities and significant tourism revenues, weighed against the risk and costs of similar severe weather events in the future. In addition, local development is governed by a dense network of plans and regulations: municipal zoning and master plans; the state's environmental regulations, including those dedicated to water resources and to guiding coastal development; and the ways in which we've directed investments in water, transportation and power infrastructure.
New Jersey Future has been involved in several significant initiatives as it works with other key stakeholders to identify paths forward to rebuilding a vibrant, resilient New Jersey:

Local Recovery Planning Managers: We have placed three local recovery planning managers in six Sandy-affected communities to bring them the additional capacity they need as they rebuild after the storm. Local recovery planning managers have been working in Highlands, Sea Bright, Little Egg Harbor, Tuckerton, Commercial, Maurice River.For each town, the recovery manager has:

Prepared a Strategic Recovery Planning Report. All participating towns have adopted their reports;
Led the establishment of a recovery planning and implementation steering committee;
Facilitated public outreach/community engagement involving a wide cross-section of residents to discuss future sea-level rise, flood risks, and adaptation/mitigation strategies;
Worked to secure Sandy recovery grants to address specific needs in each community;
Continued to work to achieve FEMA Community Rating System certification.

Health Impact Assessment: New Jersey Future conducted a Health Impact Assessment to evaluate the effects of buyout strategies on personal and municipal health in the Mystic Island section of Little Egg Harbor. Read more. Download the full report.
Development of Coastal Resilience Strategies: As part of the Sustainable and Resilient Communities project, funded by the New Jersey Department of Environmental Protection Office of Coastal and Land Use Planning, we have developed a report outlining various strategies to make people and property less vulnerable to sea-level rise and extreme weather. At the local level, those strategies include:

Enacting more resilient building codes and standards;
Refocusing development;
Protecting and restoring marshes and wetlands;
Disclosing hazards;
Realigning capital investment priorities.
The report also describes actions the state should take to support communities that want to implement risk reduction strategies.
State Policy Advocacy: With a variety of partners, we have been working to develop a national model for disaster recovery that improves equity, resiliency and sustainability outcomes and that provides a template for other states to use in their disaster-resiliency efforts. Among our desired outcomes:

Land use decisions seek to enable people and property to withstand future storms.
All levels of government adopt comprehensive risk assessments that consider long-range sea-level rise and other factors.
Governments use the risk analyses as a driving factor in their hazard mitigation plans, land use plans, land preservation efforts and capital investment decisions.
Strong land-use planning elements are incorporated into local and regional hazard mitigation plans.
Resources
New Jersey Future Blog
Articles and Stories
See all New Jersey Future Blog posts and articles in this category »

Reports, Presentations and Testimony