Growing Smart and Water Wise
Future development and water withdrawals in the Pinelands growth areas must be designed to enhance, not degrade, water resources.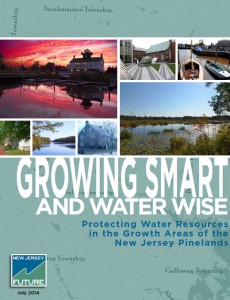 This report highlights the ways that water resources in the Pinelands have been affected by development; the pressures we can expect going forward; and what can be done by municipal, regional and state agencies to minimize their negative impacts.
The report is in two parts:
The first part, Effects of Land Development on Water Resources of the Pinelands Region, provides a comprehensive survey of water indicators in three diverse growth areas of the New Jersey Pinelands, examining water quantity, water quality, watershed integrity and the state of wastewater, stormwater and public drinking water supply systems. The analysis was prepared by a team led by Daniel Van Abs Ph.D., associate research professor in Rutgers' School of Environmental & Biological Sciences and current chairman of the New Jersey Clean Water Council.
The second part of the report, Growing Smart and Water Wise: Protecting Water Resources in the Growth Areas of the New Jersey Pinelands, summarizes the major findings in the Van Abs report and recommends specific actions that Pinelands municipalities, the Pinelands Commission and the New Jersey Department of Environmental Protection should take to protect and improve the region's water resources.
Among the report's major findings:
The study areas exhibit significant environmental impacts from development, but they vary by location.  For example, in Medford and Evesham townships, every subwatershed is in violation of state standards for pH, due to widespread sprawl development.  Little Egg Harbor and Tuckerton face the recent closure to shellfishing of 23.5 acres of Tuckerton Creek due to the presence of fecal coliform.
New research methods provide an early warning signal for when the Kirkwood-Cohansey aquifer is being overdrawn, projecting when nearby wetlands will begin to dry up.  These methods show that water availability is a major concern for aquatic ecosystems in Hammonton in particular, which also faces drinking-water limits that will impede future growth unless water conservation is extremely successful.
In addition to a host of best practices for municipalities, the report recommends updates to NJDEP and Pinelands Commission policies, including the following:
Stronger protections against withdrawals that would deplete the Kirkwood-Cohansey aquifer
An aggressive investigation of water supply alternatives to the Kirkwood-Cohansey aquifer
Providing better planning and management tools, by updating the NJ Water Supply Plan  and authorizing local adoption of stormwater utilities.
The report was funded by a grant from the William Penn Foundation, and is available as follows:
____________________________________________________________________-
What Experts Say
"Water resources in these three areas of the Pinelands show significant environmental impacts from development, much of it from prior to the Pinelands Act or outside of the Pinelands area. Moving forward, recent research can be used to protect Pinelands ecosystems more effectively from excessive water withdrawals, so that the Pinelands environment can be sustainable despite future development."
— Daniel Van Abs Ph.D., associate research professor in Rutgers' School of Environmental and Biological Sciences; current chairman of the New Jersey Clean Water Council
"New Jersey residents count on the Pinelands Commission and NJDEP to keep Pinelands waters healthy.  We look forward to working with those organizations to update their rules and programs."
 — Chris Sturm, New Jersey Future senior director of state policy
 "We hope that municipalities take advantage of the report's many practical suggestions and resources.  Hammonton's water conservation efforts, Medford Lakes' stormwater management programs, and the inter-municipal collaboration taking place in Little Egg Harbor and Tuckerton offer great examples of the on-the-ground successes already happening."
— Nick Dickerson, New Jersey Future policy and planning analyst
"An abundant supply of clean water and the infrastructure to get it where it is needed are the building blocks to any successful community. I'm proud that we have used the challenges we faced with water resources here in Hammonton as an opportunity to innovate in order to ensure our future prosperity.  I hope that other towns can benefit from our experience."
— Steve DiDonato, mayor, Town of Hammonton
"The Pinelands Comprehensive Management Plan has been instrumental in protecting a priceless natural asset. But protecting the Kirkwood-Cohansey aquifer cannot just be measured by the number of acres of land preserved. It must also take into account the effects that our patterns of development are having. This report is a clear-eyed look at those effects in three important growth areas of the Pinelands."
— Carleton Montgomery, executive director, Pinelands Preservation Alliance