Sandy Recovery Action Plan Doesn't Commit to Resiliency Planning, Sustainability
April 29th, 2013 by New Jersey Future staff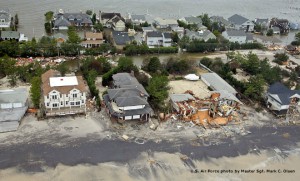 U.S. Dept. of Housing and Urban Development Shaun Donovan's announcement that the first $1.83 billion in HUD Sandy recovery funds has been approved and will be released is welcome news for the many in New Jersey who desperately need these funds in order to rebuild after Hurricane Sandy. However, we remain concerned that, despite requests to include it, insufficient attention is being paid to the need for robust planning for sustainability and longer-term resiliency.
Without dedicated funds for resiliency planning and a strong state commitment to move them forward, our communities have neither the support nor the resources to rebuild in a "safer, smarter, stronger" way, as Secretary Donovan said in his announcement. We hope that the next round of CDBG funding, combined with other federal disaster spending, will address these critical issues.
Read our full statement.
---