Clock Is Ticking on Public Comment Period for Sandy Recovery Spending Plan
March 20th, 2013 by Peter Kasabach

Note: This post was originally published March 14, and has been updated below with a link to New Jersey Future's comments on the plan.

---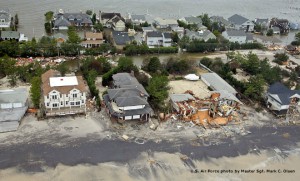 Late in the afternoon of Tuesday, March 12, the Christie administration released its proposed Community Development Block Grant Disaster Recovery Action Plan, which outlines how the state plans to utilize its $1.8 billion in federal Sandy-recovery funding. According to the official announcement, "This is the first phase of Community Development Block Grant funds provided to New Jersey by the U.S. Department of Housing and Urban Development. Additional CDBG recovery funds are expected in the coming months."
The plan is posted on the state Department of Community Affairs website and as a downloadable PDF.
The release of the plan triggers a seven-day formal public comment period, which will extend until 5:00 PM on March 19. During this period, comments are being accepted via email (Sandy

Recovery
dca

state

nj

us) .
The Christie administration will then submit the plan, including a summary of comments, to HUD for approval.
We at New Jersey Future are in the process of analyzing the plan and will be submitting formal comments, but one of our initial concerns is that the plan makes no provision for specific funds to help towns and counties plan for a more resilient and sustainable future. In light of the increasing frequency of severe weather events and rising sea level, we feel it is critical to provide funds to struggling municipalities to identify how they can keep their residents and businesses out of harm's way and minimize the adverse economic impacts of major disasters like Sandy.
We urge all interested parties to study the plan, and to email any comments (Sandy

Recovery
dca

state

nj

us)  about how the funds are allocated. 
Update: Read New Jersey Future's comments (PDF).
---
2 Responses to "Clock Is Ticking on Public Comment Period for Sandy Recovery Spending Plan"