Planning for Sea-Level Rise I: Accounting for Damage
January 10th, 2017 by New Jersey Future staff
This series of articles was written by New Jersey Future intern Connor Montferrat.

---
Introduction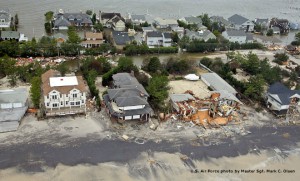 For the past four years, New Jersey Future has assisted several coastal communities with recovery and resiliency planning following Hurricane Sandy. This work is difficult in large part because communities, even with support and coaching, are not yet prepared to address coastal (including riverine) vulnerability. We've yet to come to grips with the fact that eroding coastlines, increasingly frequent and severe storms, and growing flood risks associated with sea-level rise in many cases render rebuilding in place unsafe and untenable in the long term.
Eventually, when nuisance flooding begins to occur more regularly and willingness to accommodate this inundation is exhausted, reshaping development patterns to shift growth away from high-risk areas will become necessary. The questions are: How can municipalities in New Jersey best prepare for such changes; and when and where should they occur?
Fortunately, many states throughout the country, with populations that are as vulnerable to the impacts of sea-level rise as residents of New Jersey, are employing strategies that are intended to re-shape existing development patterns and prohibit new growth in flood-prone areas. Building on the experiences and tactics employed elsewhere can equip New Jersey to respond more effectively to, and avoid potentially devastating future impacts of, rising sea levels.
This series of articles will offer descriptions of these techniques, intended to inform interested public officials, stakeholders and residents about methods that can be applied to help reshape our coastlines for a more resilient future. Each post will introduce a strategy, describe its objective and provide examples of where and how it has been applied.
Part 1: Dealing With Repetitively Damaged Structures
This article considers alternative methods of accounting for substantial damage, a determination that typically triggers requirements to improve a structure to make it more resilient to flooding and storms.
According to the Federal Emergency Management Agency (FEMA), a structure is considered substantially damaged when the total cost to restore it to its before-damaged condition equals or exceeds 50 percent of its market value before the damage occurred. At that point, FEMA requires that the structure must be improved to meet current flood design standards. However, the majority of flood damages from a single event rarely exceed the 50 percent threshold and as a result, the flood-repair-flood cycle is never broken. Under the two approaches outlined below, structures would be brought into compliance with flood protection criteria more quickly than is the case currently.
Alternative Approaches
Cumulative Substantial Damage Accounting (SDA). Cumulative SDA adds the cost of insured repairs or improvements over a set period of time and then evaluates that total against the 50-percent threshold in order to determine a requirement to improve the structure. In addition or separately, the cumulative threshold could be reduced to a value lower than 50 percent (e.g., 40 percent), which would require properties to meet flood-protection criteria even sooner.
Repetitive-Loss Provision. A recently added provision would address repetitive-loss structures or properties that have two or more individual claims within a 10-year period that equal or exceed a certain percentage (e.g. 25 percent) of the market value of the property.
According to FEMA, almost none of the 20,000 communities participating in the National Flood Insurance Program have a repetitive-loss or a cumulative SDA provision in their floodplain management laws.
Implementation in Longport, N.J.
New Jersey municipalities have the latitude to modify the definition of substantial-damage thresholds to be less than 50 percent of the value of the structure. Longport, N.J., in Atlantic County, has implemented cumulative SDA and a repetitive-loss structure provision as part of its Flood Damage Prevention Ordinance.
The borough's substantial damage definition specifies:
"damage of any origin sustained by a structure extensive enough so the cost of restoring the structure to its before-damaged condition would equal or exceed 40 percent of the market value of the structure before the damage occurred. It also means flood-related damages sustained by a structure on two separate occasions during a 10-year period for which the cost of repairs at the time of each such flood event, on average, equals or exceeds 25 percent of the market value of the structure before the damages occurred."
The borough defines substantial improvement as:
"any reconstruction, rehabilitation, addition, or other improvement of a structure during a seven-year period, the cost of which exceeds 40 percent of the market value of the structure before the 'start of construction' of the improvement. This term includes structures which have incurred substantial damage, regardless of the actual repair work performed or repetitive loss."
New Jersey
As of 2013, the New Jersey Department of Environmental Protection (NJDEP) adopted new rules under its Flood Hazard Area Control Act requiring a property owner to elevate and meet new construction standards if the property is located in a flood zone and was declared substantially damaged. Additionally, NJDEP's Model Flood Prevention Ordinance encourages municipalities to change their substantial damage calculation to a cumulative accounting and include a repetitive-loss provision. However, the application of these methods for cost accounting is optional.
Most New Jersey communities that participate in the NFIP presently use the 50-percent threshold and the local floodplain administrator makes the substantial damage determination. But municipalities have the latitude to modify substantial damage limits and can enact cumulative accounting and repetitive loss provision at their discretion, so there are no regulatory obstacles to greater compliance with current code protections and more resilient reconstruction.
---