Visualizing an Aging-Friendly Built Environment for Implementation in Ridgewood Village
November 10th, 2020 by Tanya Rohrbach
Communities in New Jersey and across the country are responding to the need to design their built environments with older residents in mind. Our population is aging, and towns are taking steps to create better places for people to live during their later years. Considerations include creating housing that is of diverse type and more affordable, providing for greater mobility, and enhancing public spaces to be more accessible, safer, and welcoming.
New Jersey Future partnered with the Village of Ridgewood to develop the Creating Great Places to Age: Aging-Friendly Land Use Implementation Plan for the Village of Ridgewood. The plan identifies a number of aging-friendly strategies the town can pursue based on an implementation planning process that New Jersey Future facilitated. The process prioritized recommendations of the aging-friendly land use analysis completed previously for the village by New Jersey Future. Four high-priority strategies are detailed in the plan and include the specific action steps the town would need to take to implement each.  
To provide design support to the village for one of the plan's action items, a graduate design studio class at the Bloustein School of Planning and Public Policy at Rutgers University worked from the town implementation plan and presented five tactical urbanism design concepts for several community locations to village engineers and council members. The students developed design concepts that involve installation of a temporary demonstration project to test a more permanent solution or that will provide a low-cost community amenity that is adaptable to changing needs. This approach is often referred to as tactical urbanism and is a great way for municipalities to take actions with community involvement. 
Students presented visualizations for tactical urbanism designs to improve walkability, create a more welcoming park space, adapt outdoor dining and retail for winter activities, and redesign certain intersections with traffic-calming installations. All of the design concepts incorporated low-cost materials and modular components so that Ridgewood could implement meaningful improvements without spending a lot of money or committing to major infrastructure changes. For example, students pointed out the lack of a crosswalk and insufficient seating at Van Neste Square Memorial Park, which is located about two and a half blocks from the train station and centrally located in the downtown business district. The design recommendations for this space included installation of a decorative crosswalk, additional seating, and flower gardens that would all be developed based on a community engagement process to identify stakeholder issues and solutions and subsequent documentation through observation to modify the design as needed.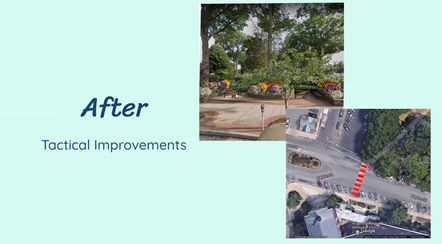 Another design concept for the park showed a plaza extension to better accommodate the park's use as a location for events, gatherings, and outdoor leisure and exercise activities. The extension proposed uses an existing adjacent parking area to install temporary, modular chairs, tents, planters and other features that would change with the seasons and adapt with community needs. These kinds of designs are intended to improve pedestrian safety, attract people to the area for community engagement, and support businesses at a very low cost to the town.
Students recognized the work Ridgewood has already done to respond to the effects of COVID-19 on local businesses by permitting outdoor operation of dining and retail under certain conditions and closing some streets to vehicular traffic to permit pedestrian-only use at certain times. To provide a means for Ridgewood to winterize these activities beyond the current set up of basic tables, chairs, and umbrellas, students presented examples of different types of enclosures that could be constructed, modified, or dismantled easily and are low-cost. Sketches of parklet models showed semi-enclosed spaces constructed of pallets and included recommendations for storage options, drainage considerations, accommodation of different sized groups, and even carnivorous plants. Designs for repurposing street space and some parking spaces for outdoor activities were offered as a means to create temporary outdoor dining and retail spaces that would be more welcoming to pedestrians and provide more benefits to businesses able to operate outside their establishments.
Intersection and circulation improvement designs presented by the students included bicycle lanes, island extensions, curb bump-outs, and a roundabout constructed with an art installation. What makes these design concepts feasible and desirable is their low cost, relative ease of installation, and adaptability to community input and needs. If the temporary installation of traffic cones and painted streets demonstrates improved pedestrian safety and activity, for example, the municipality could then pursue a more permanent solution. In the process, community stakeholders can take part in creating the temporary installation and interact with the design to provide input for a permanent improvement.
At the student presentation, the mayor of Ridgewood offered insight to contextualize the designs and suggest design modifications and expressed an overall pleasure with how the concepts added color and pedestrian-oriented community spaces to the downtown. All of the design concepts demonstrated that age-friendly design also benefits residents of all ages and is compatible with creating a vibrant downtown economy centered on pedestrian-oriented civic spaces.
Tags: aging-friendly, bloustein school of planning and public policy, implementation plan, land use implementation plan, Village of ridgewood
---