Staff and Contact Information
---
General Contact Information and Directions
New Jersey Future
16 W. Lafayette Street
Trenton, NJ 08608
p: 609-393-0008
f: 609-360-8478
General email (njfuture
njfuture

org)
Location map
---
Locate a Staff Person by Topic
---
Peter Kasabach, Executive Director
Peter has been actively engaged in the areas of housing and sustainable development and community revitalization for the past 20 years. Before taking the helm of New Jersey Future in December 2007, he was chief of policy and community development for the New Jersey Housing & Mortgage Finance Agency, where he guided investment programs and developed a comprehensive state housing policy for use by the Department of Community Affairs. Prior to joining the HMFA, he oversaw all planning and real estate development activities for Isles, a private nonprofit community development organization in Trenton. Peter holds a B.S. in Economics from the Wharton School of the University of Pennsylvania. Email Pete (pkasabach
njfuture

org) or reach by phone at 609-393-0008 ext. 104.
---
Elaine Clisham, Director of Communications
Elaine is responsible for communications and engagement across all media between the organization and its constituencies. Prior to joining the organization in March 2011, she spent more than 30 years in advertising sales and marketing at several New Jersey newspaper organizations and at its statewide trade association. Most recently she was the director of marketing and of targeted solutions at the American Press Institute, a national newspaper industry think tank, where she was involved in a multi-year research project focused on new digital business models for newspapers. She holds a master's degree in Community Planning with a concentration in housing and community development policy from the University of Maryland; an M.B.A. with a concentration in marketing from Northeastern University; and an A.B. in English from Princeton University. Email Elaine (eclisham
njfuture

org) or reach by phone at 609-393-0008 ext. 102.
---
Emily Eckart, Administrative Assistant
Emily is responsible for database and list management, meetings and event support, website maintenance, and other administrative functions. Prior to joining New Jersey Future, she coordinated course materials for Harvard Kennedy School's degree and executive education programs. She holds a B.A. with a concentration in music from Harvard University. She is a published author, and is currently completing a master's degree program in sustainability through Harvard Extension School. Email Emily (eeckart
njfutture

org) or reach by phone at 609-393-0008 ext. 113.
---
Tim Evans, Director of Research
Tim is responsible for the original research and data analysis that support New Jersey Future's policy development.  He regularly documents his research results in a variety of products, including full-length research reports and the twice-monthly Future Facts electronic newsletter.  He also ensures that all of New Jersey Future's products and media communications are quantitatively accurate and defensible.  Tim frequently provides data and advice to colleague organizations, serving as an informal research consultant to the smart growth community at large.  His analysis and commentary have been featured by a wide range of state and national media outlets. Tim holds a B.S. in mathematics from Ursinus College, an M.S. in statistics from the University of Virginia, and a master's in city and regional planning (M.C.R.P.) from the Bloustein School of Planning and Public Policy at Rutgers University.  Prior to joining New Jersey Future, Tim worked for six years as a mathematical statistician for the Bureau of the Census in Washington, D.C. Email Tim (timevans
njfuture

org) or reach by phone at 609-393-0008 ext. 103.
---
Michele Glassburg, Director of Development and Outreach
Michele is responsible for developing and implementing corporate outreach, fundraising and relationship building activities, including events, for New Jersey Future. Her career experience includes over 30 years working in marketing and membership for the New Jersey Business & Industry Association. She holds an M.B.A. with a concentration in marketing from Temple University, and a B.A. in political science and economics from the University of Pennsylvania. Email Michele (mglassburg
njfuture

org) or reach by phone at 609-393-0008 ext 107.
---
Marianne Jann, Manager of Office and Budget
Marianne is an accountant who has primary responsibility for all office administration, including budgeting, financial recordkeeping and database management. She earned her accounting degree from the Philadelphia College of Textiles and Science, and previously served as an auditor for a public accounting firm in Trenton. Email Marianne (mariannejann
njfuture

org) or reach by phone at 609-393-0008 ext. 101.
---
Moriah Kinberg, Community Outreach Coordinator
As community outreach coordinator, Mo is responsible for New Jersey Future's outreach and engagement activities in several North Jersey urban communities that are currently dealing with flooding, health and redevelopment issues stemming from inadequate water systems. Mo has community and campaign organizing experience working with non-profit organizations and labor unions. She has worked on campaigns from the ground up, on topics ranging from transportation and education to food policy and environmental justice issues. She has effectively brought stakeholder groups together to form strong coalitions that have collectively passed legislation and won policy changes. Email Mo (mkinberg
njfuture

org) or reach her by phone at 510-452-7178.
---
Allison Kopicki, Director of State Policy
As New Jersey Future's director of state policy, Allison will work on land-use planning and policy and local place-making. Prior to coming to New Jersey Future, Allison's career spanned the worlds of public policy, academia and journalism. Most recently, she was director of research for the University of Pennsylvania's Program on Opinion Research and Election Studies and conducted polling for NBC News. She was a staff editor in the news surveys department at The New York Times and wrote about personal finance for Bloomberg. She has held various roles in New Jersey government, including as a senior program analyst at the Office of the State Comptroller and senior director of research and legislation in the Governor's Office of Economic Growth. She holds a master's degree in Public Policy from the Bloustein School of Planning and Public Policy at Rutgers University and a Bachelor of Arts in English from Boston College. Email Allison (akopicki
njfuture

org) or reach by phone at 609-393-0008.
---
David Kutner PP AICP, Planning Manager
As planning manager, David is responsible for outreach and assistance to municipalities responding to the effects of Superstorm Sandy. He is a licensed professional planner with over 25 years of land use and environmental planning experience. He has worked as a planning consultant and held positions in local, county, and state planning agencies in New Jersey, Massachusetts, New York, Pennsylvania, and Florida. David's work has included master planning; community design; neighborhood planning; downtown redevelopment planning; economic development; and natural resource protection and open space/recreation planning. He has extensive experience in project management and facilitation, specializing in citizen participation, community interaction and project negotiation. Email David (dkutner
njfuture

org) or reach by phone at 609-393-0008 ext. 105.
---
Kandyce Perry, Planning and Policy Associate
As a planning and policy associate, Kandyce works to carry out New Jersey Future's Mainstreaming Green Infrastructure program, which assists communities, developers, and design professionals in using green stormwater infrastructure. Prior to joining New Jersey Future, Kandyce worked on brownfield redevelopment at the City of Camden Redevelopment Agency. Kandyce holds a master's degree in Environmental Studies with a concentration in Environmental Policy from the University of Pennsylvania and a B.S. in Environmental Science from Spelman College. Email Kandyce (kperry
njfuture

org) or reach by phone at 609-393-0008 ext. 108.
---
Jane Rosenblatt, Program Manager
As program manager, Jane supports New Jersey Future's backbone functions for the Jersey Water Works collaborative. Prior to joining New Jersey Future, Jane managed the Sustainable Jersey Small Grants Program, coordinating the application, selection and reporting processes. She previously worked at the New Jersey State Historic Preservation Office, the New Jersey Department of Environmental Protection's Division of Parks and Forestry, and the Eagleton Institute of Politics at Rutgers University, where she conducted research on New Jersey gubernatorial environmental policy. Jane holds a B.A. in history and political science from Rutgers University with a concentration in environmental policy. Email Jane (jrosenblatt
njfuture

org) or reach by phone at 609-393-0008 ext. 110.
---
Chris Sturm, Managing Director, Policy and Water
Chris directs New Jersey Future's water programs to upgrade urban water infrastructure, mainstream green infrastructure, and facilitate Jersey Water Works. She also leads New Jersey Future's policy development and advocacy across a host of issues including sustainable infrastructure, climate resilience, regional planning and incentives for compact, equitable growth. She spearheads collaborative efforts to reshape land use policies and public investments so that they strengthen communities. Chris is a member of the Clean Water Council of New Jersey and the U.S. Water Alliance. Her career experience includes serving as the assistant director of the Capital City Redevelopment Corporation, as well as working for the MSM Regional Council (now PlanSmart NJ), the Eagleton Institute, and the Office of State Planning. She holds a master's degree in Public Affairs from the Woodrow Wilson School at Princeton University, where she concentrated in Urban and Regional Planning. Email Chris (csturm
njfuture

org) or reach by phone at 609-393-0008 ext. 114.
---
Louise Currey Wilson, Green Infrastructure Manager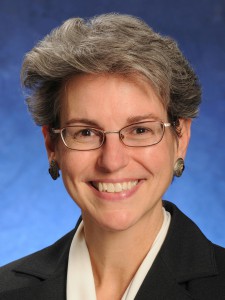 Louise Wilson manages New Jersey Future's green infrastructure project, a program aimed at moving green stormwater infrastructure practices into the mainstream.  She is a former mayor and committeewoman in Montgomery Township, and she is a former member of the New Jersey State Planning Commission. She has served as an officer of the League of Municipalities Executive Board; president of the League's Educational Foundation; and a trustee of the Municipal Land Use Center at The College of New Jersey; and she is currently a trustee for local and statewide land preservation organizations. She is a graduate of Georgetown University. Email Louise (lwilson
njfuture

org) or reach by phone at 609-393-0008 ext. 109.
---