New Jersey Future Offers Grants To Foster Noncontiguous Clustering
November 19th, 2013 by Nicholas Dickerson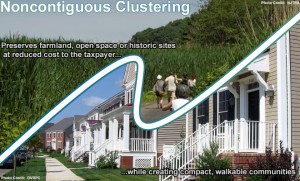 Revisions (P.L.2013, c. 106) to New Jersey's Municipal Land Use Law (MLUL) last August permit municipalities to direct land development and preservation through a newly-enhanced noncontiguous cluster tool. To promote interest in and adoption of noncontiguous cluster ordinances, New Jersey Future will sponsor a competitive grant opportunity for the planning and development of a municipal noncontiguous clustering program. Through funding from the Bunbury Company, New Jersey Future is able to offer grant funding for eligible jurisdictions to explore the development of a noncontiguous cluster program through a feasibility study; adopt a noncontiguous cluster ordinance; or overhaul an existing noncontiguous cluster ordinance. New Jersey jurisdictions interested in pursuing a noncontiguous cluster ordinance are encouraged to apply for a $5,000 competitive planning grant from New Jersey Future. The grant application may be downloaded here: PDF | Word with interactive fields.
This grant funding is intended to jumpstart application of the noncontiguous cluster tool. Noncontiguous clustering programs will vary by jurisdiction because they can be used for the preservation of open space, farmland or historic sites, in rural, suburban and even urban communities. As a result, while the tool requires fewer steps to implement than other density transfer tools, such as a Transfer of Development Rights (TDR) program, jurisdictions still have to gauge the local feasibility and applicability, in addition to the being willing to take the regulatory steps involved with amending master plans and development ordinances to designate areas intended for growth and for preservation.
For those interested in the noncontiguous cluster tool and the grant opportunity, New Jersey Future and its partners will host a free two-part webinar series this December. On Tuesday, Dec. 3, from noon to 1:00 pm, webinar participants will be introduced to the enhanced clustering tools and how noncontiguous clustering can help jurisdictions meet their goals for land preservation and walkable development. Intended for local officials, planning board members and interested citizens, the webinar will use illustrated case studies to explain how noncontiguous cluster development works, and will offer resources for getting started. The webinar has been approved for 1.0 AICP-CM credit. The second webinar, on Tuesday, Dec. 10, from noon to 1:30 pm, will examine the technical details associated with implementing a noncontiguous cluster plan, and is geared toward municipal planners and attorneys. This webinar has been approved for 1.5 AICP-CM law credit, CLE credits are pending. New Jersey Future staff will be available during both webinars to answer questions related to the grant.  
Jurisdictions may submit their grant applications to New Jersey Future between now and Feb. 28, 2014. Applicants are expected to provide a minimum match of $5,000, of which half may be in the form of in-kind services. For the grant application, webinar registration and additional information on noncontiguous clustering, including the legislation, case studies, fact sheets and recorded webinars, please visit the cluster development page on New Jersey Future's website. Other questions related to the grant may be answered by contacting Nicholas Dickerson (ndickerson
njfuture

org) , 609.393.0008 x109.
Download grant application (PDF for hard-copy submissions) (Word document with interactive fields)
---